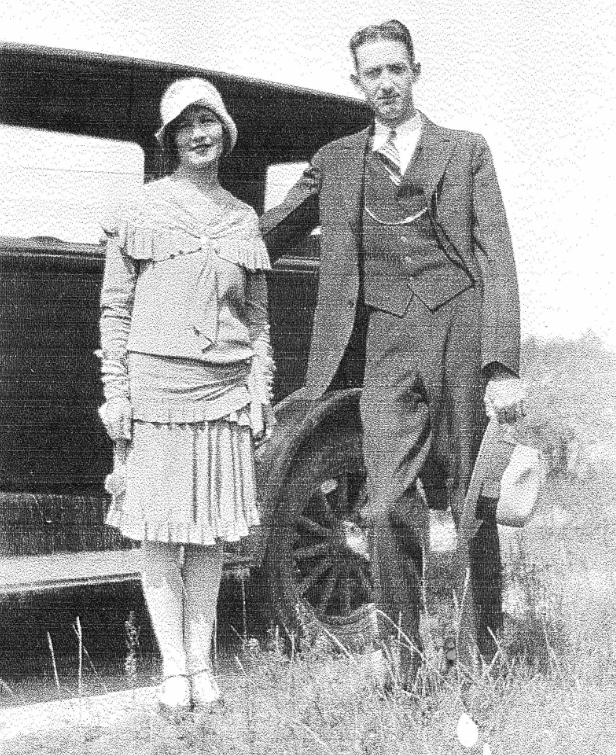 From the Sanders Family files of Legacy Keeper Donna Thompson.
Prentiss Sanders (b. 19 July 1906; d. 19 July, 1979) m. Edna Earle Boman (b. 2 September 1907; d. 10 March 2014) on 2 January 1927, about sundown on a beautiful Sunday afternoon, in Columbus, MS by E. E. Grout, J.P. Witnesses to the marriage were Mr. and Mrs. Kirk Thompson and Miss Mila Ree Boman.
Prentice worked for Liberty National Life Insurance Company for 32 years, without ever missing a day of work. At retirement, he was Associate Manager of the Winfield, AL District. Prior to that, he was self-employed as a farmer and posting (putting up billboard advertisements). He was a charter member and past President of the Vernon Kiwanis Club, Chairman of the Lamar County 4-H Fund-Raising Campaign, Chairman of the County Red Cross Blood Program, Secretary of the County 4-H Fat Stock and Dairy Shows, and a member of the American Legion. He was a talented singer and song leader and enjoyed all-day singings, and attending gospel quartet concerts. Prentice was a hard worker who provided well and generously for his family. He was a shrewd trader and a good businessman. He served in the U.S. Army from 1943 to 1944. He attended the First United Methodist Church at Vernon where he was a Sunday School member and sang in the choir. He died of a cerebral hemorrhage and is buried in the Sanders Cemetery near his home.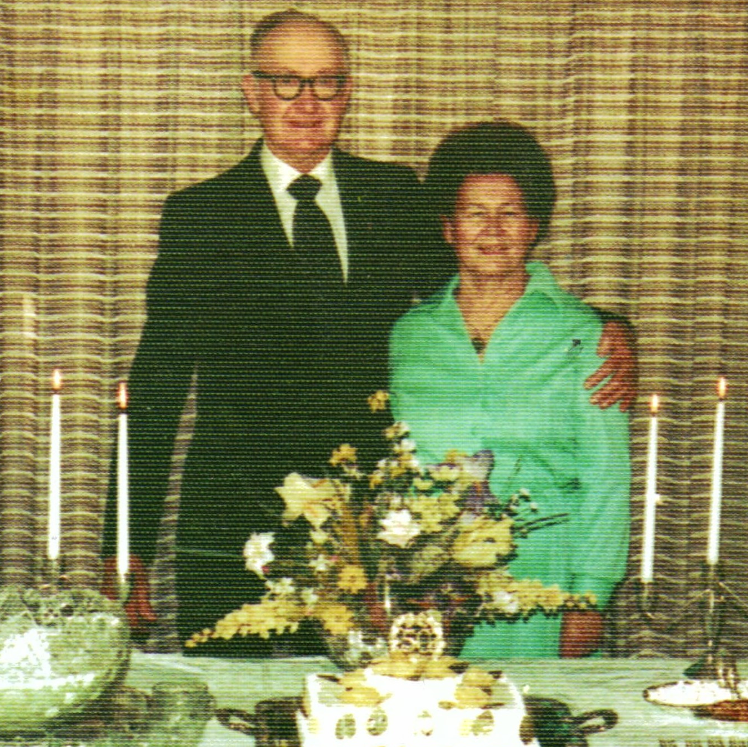 Edna was a faithful member of Mt. Pisgah Church all her life, and served as a Sunday School teacher for many years. She attended Union and Mt. Pisgah Schools and graduated from Lamar County High School in 1926. She taught part of one term at Mt. Pisgah School in 1928. She was always active in community affairs, being a longtime member of a Home Demonstration Club and serving as a volunteer leader for different activities when her children were young. She served as a poll worker for many years, was an enumerator for the Agricultural Census, and campaigned for educational taxes. She was named Lamar County Woman of the Year in 1968. She was always a dedicated and loving wife and mother and a respected member of the community. In 1989, Edna published a book, LEST WE FORGET – A History of the Boman, Chandler, Todd and Morris Families of Lamar County, Alabama, the result of over 40 years of genealogical research. She (and Prentice, before he died) also collected much of the data contained in this section of Legacy Keepers.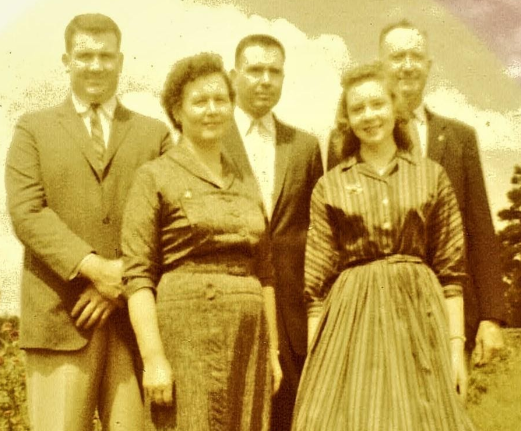 L-R: Jack, Edna, Bobby, Donna, and Prentice Sanders in 1958.