From the files of Legacy Keeper Donna Thompson.
George was born 8 March 1845 in Fayette County, Alabama.  He died 4 December 1910 in Lamar County, Alabama.  He married Selina Emeline James, who was born 10 June 1848 in Fayette County, Alabama, and died 1 April,1932 in Lamar County, Alabama.  Both are buried in the Sanders Cemetery (that he established) near Vernon, Alabama.
George, age 16, joined the Confederate Army in the spring of 1861, at Tuscaloosa, Alabama, and served two years as a substitute for one of his brothers (Harvey Monroe Sanders, who was needed at home, or did not choose to go, but who did go later, anyway).  George served at least one of those years as a Private in Co. G, 41st Alabama Infantry, which was organized on 16 May 1862.  In the fall of 1863, perhaps after the brother for whom he was serving decided to join up, George "deserted" the 41st Alabama and re-enlisted as a Private in Co. B, 8th Alabama Cavalry (commanded by Col. Charles P. Ball), which was organized in April 1864.  George was with the 8th Alabama Cavalry when he was wounded in a battle at Rome, Georgia.  Notations on George's war records found in the National Archives, Washington, D.C. say he "Continued after much service and often with Gen. Joe Wheeler," and that he "Served on special detail as a Sharp Shooter."
George came home from the war and married Selina James, probably in the summer of 1865.  They lived in Fayette County until several of their children were born, then moved to Lamar County to what is now known as the Asa McCarver place, about one and one-half miles north of Vernon on Beaver Creek Road. George built this house that is still standing – a classic example of the Southern dog-trot style house. 
The house now belongs to George's g-g-granddaughter Linda Pounders Pennington and her husband Dan. They have slightly modified and updated the house, all the while striving to keep its original shape and character.
Old records and deeds indicate that George and his family started living on this property in May, 1880.  In 1885, George applied for and received a Government grant for this place and also for a piece of property about a quarter mile north, which his eldest son, James Marshall Sanders, later bought from him and built on.  This Government Grant, Homestead Certificate No. 5917, was for 40 and 28 acres, and was signed by President Benjamin Harrison.  Eunice Turner Sanders remembered that there once was an old house, called the Sealy house, standing in front of the house that George built.  Emma Springfield Sanders later taught school for a time in this old house.  In 1896, George and his son, James Marshall Sanders, bought 150 acres from H. C. Bickerstaff, for $150.00.  This property adjoined the Government Grant property.
Sometime after 1896, George and Selina moved to Corinth, Mississippi in order for some of the daughters to work in the cotton mill there.  (It was on the trip to Corinth, by horse and wagon, that George, who loved to tease and have fun, pointed out several likely looking trees that might be useful if the women-folk needed some privacy, with no outhouse nearby.  "There's a good tree, Ma ……..")
On February 10, 1899, the Alabama General Assembly approved funds to be used for the relief of Confederate and Alabama soldiers and their widows.  According to an "Application for the Relief of Confederate Soldiers and Sailors" that George filed in June, 1899 at the age of 54, he was wounded at the battle of Rome, GA, and was unable to make a living by manual labor on account of "said wound and shot in the arm and Abdom. = Rim of Abdomon broke all around".  George was with the 8th Ala. Cavalry when it surrendered at Gainesville, FL on 4 May 1865, and he was "paroled" (discharged) at Starkville, Mississippi that same month.
On July 6, 1903, Dr. G. C. Burns of Vernon, Alabama, penned the following letter, which was witnessed by Wm. Stone, and sent to the War Department, in an effort to get an increase in George's pension:
"G. H. Sanders, a Pensioner, who has become a bad cripple. By blood poison in Left Arm and hand & who has lost the intire use thereof. We recommend him to be placed in the 3 class of Pensions."
After they moved back to Alabama, George bought approximately 100 acres of land from R. L. Bradley, on 8 April, 1905, for $800.   (This place was then known as the Green Jordan place and was located about three miles west of Vernon on the Columbus, Mississippi highway – just past Furnace Hill Cemetery.  We think George built the house on this place that stood until the early 1990's.  It was said to be haunted.) This is where the family was living when George's daughter Lulie saw "torment coming down graveyard hill," and when his daughter Donie died.
After the girls had left home, and George was too ill to farm or work, he and Selina sold the Jordan place and moved back north of Vernon, near their former home, into an old house that stood where the smokehouse/truck shed on the Prentice Sanders place once stood.
Their son, James Marshall Sanders owned the place and lived across the road.  This is where they were living when George died in 1910.
From all accounts, George H. Sanders was a loud, gregarious, out-going person – a very proud man. He was a farmer, a horse trader, and a practical veterinarian who traveled the county over treating farm animals.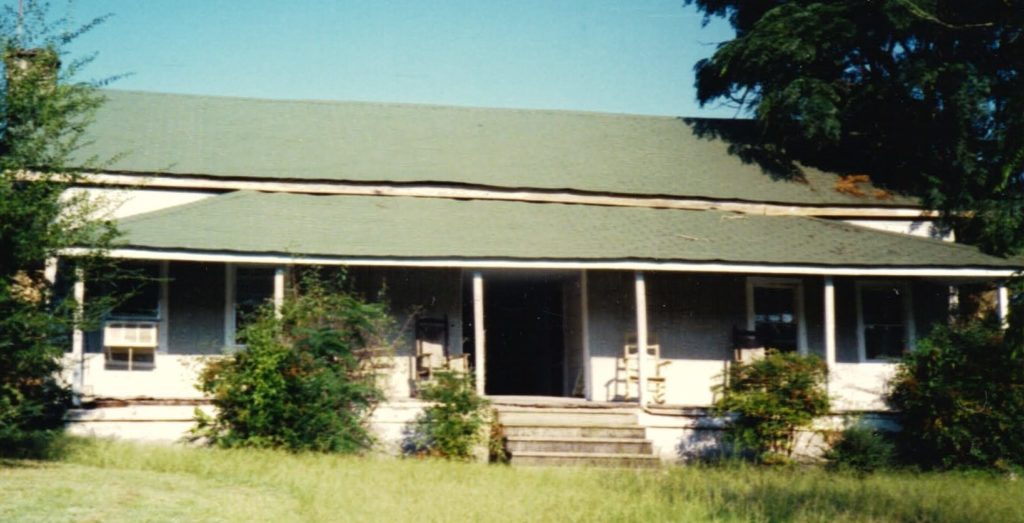 The house George Harrison Sanders built near Vernon, Alabama