From the files of Legacy Keeper Donna Thompson: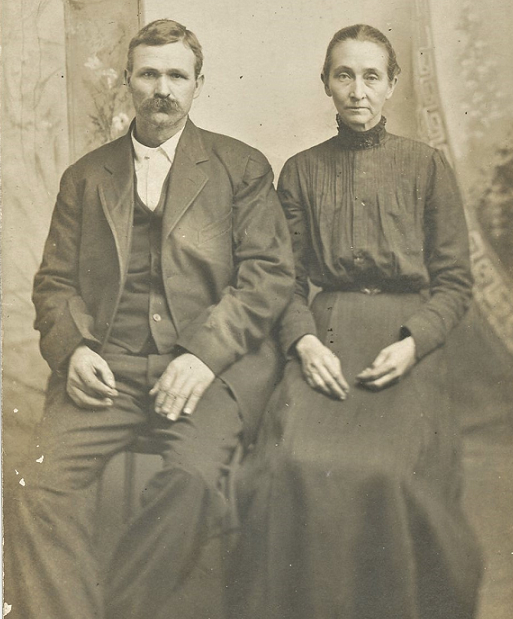 1. Evelyn Rose Missouri Annabelle Sanders (b. 25 June 1866 in Fayette County, AL; d. 25 May 1937)
m. William Cartwright "Billy" Morton (b. 25 December 1864; d. 13 November 1923).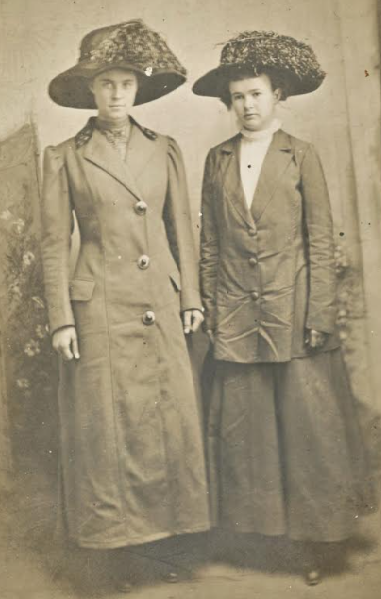 Billy was a blacksmith who ran a shop across the road from his brother-in-law James Marshall Sanders' home (he and his wife lived on the place, where the orchard behind Prentice Sanders'  barn used to be).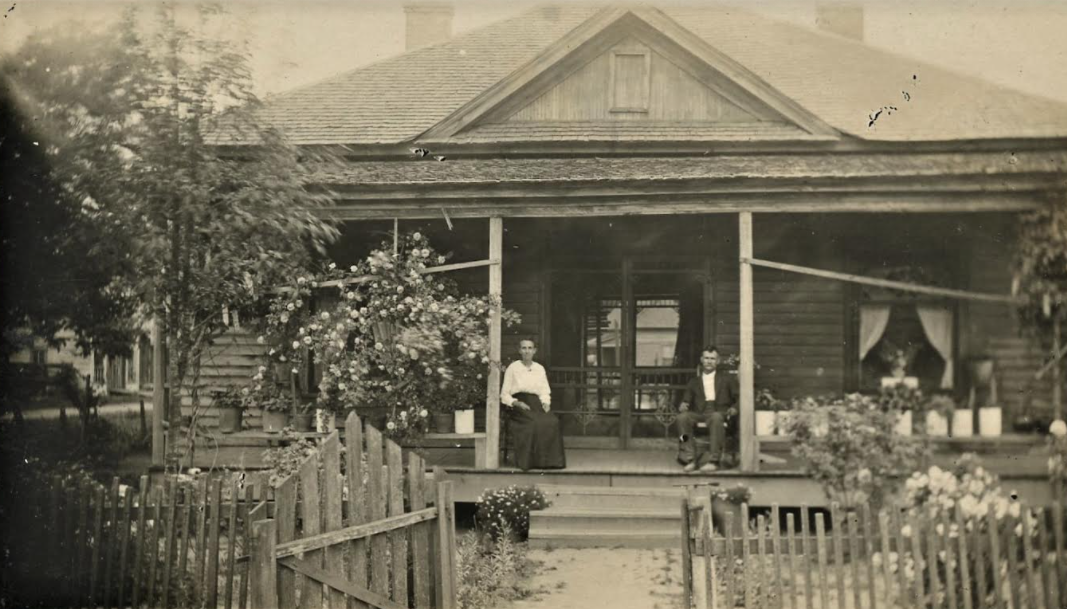 Later he and his family moved to Sulligent, AL, where he opened a blacksmith shop.  Annabelle was a milliner (ladies hat maker).  They are both buried in the Sanders Cemetery near Vernon.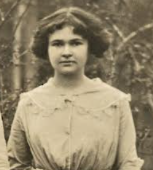 (Anna Banks McCarver Pounders Eskridge remembers visiting Aunt Belle at their home in Sulligent pictured above.  She said it had a screened in porch, was near the railroad, and that hoboes from the train would sometimes come by asking for food.  Aunt Belle didn't have much patience with them. 
Jack Sanders, a great-nephew, also remembers that the house was on the street that faced the railroad and that Billy and Annabelle had moved to Sulligent so Billy could work for the railroad repair shop.) 
They had six children – three infants and one daughter Arroah Caroline "Ora"  (buried with her infant son Dale) are in the Sanders Cemetery near Vernon.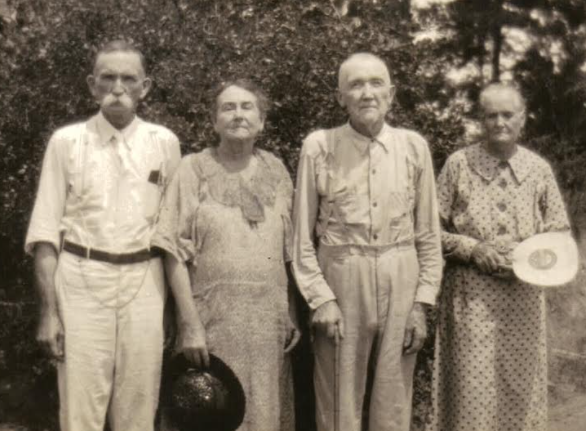 2. James Marshall Sanders. (b. 22 May 1868; d. 26 March, 1939)
 m. Emma Springfield (b. 28 December 1866; d. 27 October 1947) 
They are our ancestors.  
(Note:  James and Emma's entire life stories as well as those of their seven children can be found throughout this site.)
3. Cornelia E. "Neely" Sanders (b. 19 May 1876; d. 24 October 1949)
m. Darling Belk. 
They lived in Belk, Alabama.  Darling had seven children by a previous marriage, but he and Neely never had children.
4. Zedora Adeline "Dodie" Sanders (b. 22 December 1878; d. 1 September 1929) m. William H. Strawbridge.  They had seven children.
5. Aurora Velulie "Lulie" Sanders (b. 6 March 1881; d. 1 September 1929.) Lulie was a talented musician; she taught piano and organ, and tuned organs.  She was a hard worker and often helped her father in the fields.  When the family was living on the Columbus highway, near Furnace Hill Cemetery, she was plowing in a field near the road one afternoon about dark when she heard a sound like nothing she had ever heard, and saw bright lights coming down the hill toward her.  Terrified, she screamed, "LORD GOD! YONDER COMES TORMENT DOWN GRAVEYARD HILL!"  She dropped her plow lines and ran as fast as she could to the house. "Torment" turned out to be the first automobile she had ever seen.
Lulie was a fiesty, independent woman.  She and her brother Harvey are among the more colorful characters of our family.  She was married and divorced twice, which was practically unheard of in those days.  Favorite family stories include those about her and Harvey and the "glory hole" and the famous confrontations between her and Granny (her mother, Selina James Sanders) in the mornings:  They usually went something like this": "Get up, Lulie, honey," Granny would start off, in her clipped, precise way of speaking.  Lulie wouldn't move.  "Lulie, honey, get up."  This would go on for quite a while, with Granny becoming more and more agitated, and getting louder and louder, and Lulie still in bed.  "Get up, Lulie, I'm mighty nigh dead."  After so long, Granny's frustration level would peak and she would scream "GET UP, YOU LAZY sh****s!!"   And, Lulie would get up … in her own good time.
Lulie's first marriage was to John Adams.  They had one daughter, Flora Lee.  Her second marriage was to Michael Trimm and they had two daughters, Annie Lee and Belle Cutis.   Lulie, who suffered from epilepsy, died at the age of 48 of breast cancer and is buried in the Sanders Cemetery near Vernon, Alabama.
6. Garland B. Sanders (b. 12 March 1884; d. 6 August 1887.) Garland was probably the first person buried in the Sanders Cemetery that George Harrison Sanders established on family owned property near Vernon, Alabama.  His is the oldest marked gravestone.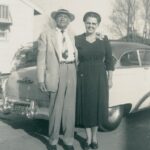 7. George Harvey Sanders (b. 13 September 1886 in Lamar County, Alabama; d. 17 March 1965 in Satsuma, Alabama) 
m. Tennie Elizabeth Mattison (b. 17 August 1887; d. 9 March 1924 in Amory, Mississippi)/ m. Mary Maxey (d. August 1954) in Smithville, Mississippi in March 1925/ m. Maud _______.  Harvey and his first two wives are buried in the Masonic Cemetery, Amory, Mississippi.
Harvey and his first wife Tennie Elizabeth Mattison Sanders had seven children; he and his second wife, Mary Maxey Sanders, had four children.
One of the more colorful characters in our family, Harvey was a singer, and a carpenter by trade.
(Note:  A story of some of his more memorable exploits can be found on the Friends, Family  and Frontier Country by Bob Sanders button.)
8. Donie Charlottie Sanders (b. 1 July 1889; d. 1909).  Donie was engaged to marry Lock Crowder when she died at the age of 20 (of tuberculosis, we think).  She was buried (in her wedding dress) in the Sanders Cemetery near Vernon, Alabama.  Hers was the first funeral held in the Tabernacle.
For some reason, Donie's funeral had to be delayed a few days. Because it was hot weather, in the days before embalming became common practice, her corpse quickly began to deteriorate. Peppermint was used profusely throughout the house and around the body in an effort to mask the odor of death.  Thus the smell of peppermint and the smell of death became indelibly intertwined in the memory of those who were there.  Some said it was many years before they could bear the thought of eating peppermint.  To this day, whenever anyone in the family asks politely, "Want a piece of Aunt Donie?," we know they are offering peppermint candy.