From the files of Legacy Keeper Donna Thompson:
Thomas Walker Springfield was born June 6, 1825 in Greenville, SC and died August 26, 1903 in Ensley, Alabama.  He was the tenth child of Samuel Aaron Springfield and Elizabeth Walker Springfield.  Thomas Walker married Emily Calloway Woods who was born October 12, 1830 in Lamar County, Alabama and died May 3, 1918 also in Ensley, Alabama.  Thomas Walker and Emily were married on November 25, 1847 in Monroe County, Mississippi.  
Around 1835, T. W. Springfield's family moved from Greenville, SC to what was then Marion County AL, and by 1836, had moved on to Monroe County, Mississippi.  He went to school only one month but learned at home. He read the Bible in the fields and became a well beloved minister.  He was commissioned as Justice of the Peace of Fayette County, AL on 1 June, 1850.  He was ordained as Deacon in the Methodist Protestant Church at the Sixth Mississippi Annual Conference on 18 October 1851, and as a Minister of the Gospel in the Methodist Protestant Church on 3 November 1857, Monroe County, MS.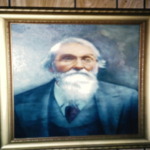 Thomas Walker Springfield moved his family to Vernon, AL in an ox-drawn wagon.  He served as minister for a time at Shiloh, a Missionary Baptist Church in Lamar County, AL, and in January 1871, was ordained a Minister of the Free Will Baptist Church in Vernon. He rode many miles organizing churches (including Springfield Church), performing marriages and funerals.
He was also a Mason and presided over a meeting of the Masonic Lodge in Vernon (possibly organized it) around 1872.  During most of his life, he was quite prominent in Masonic circles.  For four years, during the administration of President Grover Cleveland, he was postmaster at Vernon, AL.  [Grover Cleveland served two terms as President, 1885-1889 and 1893-1897.  We think T. W. Springfield was postmaster during the first term.]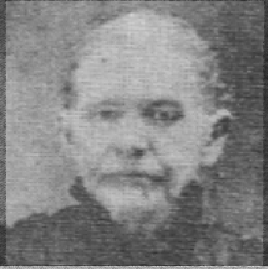 Thomas Walker Springfield also taught music, had a splendid library and reared an intelligent family of 12 children.  The girls were teachers; the boys were ministers and doctors.  His wife, Emily C. Woods Springfield, was said to be shortspoken and independent, yet a very witty woman, and a splendid housekeeper.
Sometime after his term as Postmaster, T. W. and Emily Springfield moved to Ensley, AL where he served as Associate Pastor at the Ensley First Methodist Church.  It is said that he was very prominent in Ensley, and at his death, his body lay in state 24 hours.  T. W. and Emily Springfield are both buried in the "old city section" of Oakland Cemetery, Ensley, AL