From the files of Legacy Keeper Donna Thompson.
THOMAS SPRINGFIELD, JR.
BORN: 15 July 1766 in Granville County, North Carolina.
DIED: 21 March 1845 in Greenville District (near Travelers Rest), South Carolina.
MARRIED:  Laodicea "Dicey" Langston (b. 14 May 1766; d. 23 May 1837) on 9 January 1783; /m. Lavina Smith (d. 7 October 1842).  
PARENTS:    Thomas Springfield's father was Thomas B. Springfield, Sr., who married Martha _______ about 1760 in Granville County, NC. He died 20 September 1768 in Granville County, NC. There is a record of a Thomas Springfield who hung himself on this date and at this location. 
SIBLINGS: Aaron Springfield, Moses  Springfield, and Elizabeth Springfield, who were children of the Thomas Springfield who hung himself. 
BIOGRAPHICAL INFORMATION:  Much of the information on Thomas Springfield (1766-1845) and his children was copied from his family Bible by his son, Bennett Springfield. Even though no official record has been found that Thomas Springfield served in the Revolutionary War, we feel sure that he did serve, for three reasons:  1) family legend, 2) the fact that he met his wife, Dicey Langston, during a war skirmish, and 3) he is referred to as Captain Thomas Springfield in his obituary, printed in the "Greenville Mountaineer." 
Thomas Springfield lived a long and fruitful life. After Dicey died in 1837 (after 54 years of marriage), he married Lavina Smith. We only have records of 19 children; however, Thomas' obituary stated that he had 21 children by one wife (Dicey), and Dicey's obituary said she was the mother of 22 children. It is likely that some children died in infancy. 
LAODICEA "DICEY" LANGSTON
BORN: 14 May 1766 in Granville County, North Carolina.      
DIED:  23 May 1837, at 71 years of age, at her home in Laurens County, South Carolina. 
BURIED:  Traveler's Rest, South Carolina.
MARRIED:  Thomas Springfield (b. 15 July 1766; d. 21 March 1845) in 1783.
PARENTS:   Dicey Langston's father was Solomon Langston (b. 1732; d. 1825). In 1753, he married Sarah Bennett (b. 1735) of Greenville, SC, daughter of Richard and Ann Bennett. 
SIBLINGS: Dicey had four brothers –  James, Solomon, Jr., Henry, and Bennett Langston, and five sisters – Amy, Patty, Sarah, Selah/Celah, and Mary Langston.

BIOGRAPHICAL INFORMATION:  A monument, made of stones from Dicey's fireplace, was erected in Greenville, SC in 1933, in recognition of her efforts during the Revolution.  A bronze plaque was added to the monument on 16 October, 1966 by the Nathaniel Green Chapter of DAR. The DAR of Canton, MO named their Chapter for Dicey Langston, as did the "Daring Dicey" DAR Chapter in Vernon, Alabama.  There is also a Children of the American Revolution Circle in DeLand, FL named for her.  She is mentioned in an article, "Patriots in Petticoats," by Lonnelle  Aikman, published in the October, 1975 issue of National Geographic magazine. Below are some accounts of Dicey's heroism in the American Revolution.
Laodicea "Dicey" Langston was born in Granville County, NC and came, in 1779, at the age of 13, with her family, to Laurens County, SC near the Spartanburg County boundary line. This section was overrun with British soldiers and Tories during the latter part of the Revolutionary War. Life was hard; many hostile raids were made by a company of Loyalists called the "Bloody Scouts" on families and settlements known to be Patriots (Whigs). 
Learning the ways at that time, Dicey became a bold and reckless horse rider. Living in a community where she was surrounded by Loyalists (many of whom were relatives), Dicey, by then about 16 years of age, found it easy to listen and learn that which was about to happen. She related information to her brother, James, who was camped with a small band of Patriots along the opposite shore of the Tyger River. Questions began to arise as to how information could have come to the rebels. Immediately, suspicion was turned to Dicey and she was commanded to desist from her patriotic treachery. But having heard by accident that the "Bloody Scouts" were about to visit the "Elder Settlement" where her brother lived, she determined at all costs to warn them. That night, she put on some of her brother's clothes so she would smell like him, and could ride a stallion that would only let James near him. She was obliged to race through the woods, in the dead of night, on a half-wild stallion, and cross the storm-swollen Tyger River to reach her brother's camp 20 miles away. Having just returned from a march, her brother and his friends were tired and hungry. Dicey commanded them to build a fire and she baked them hoecakes before they rode to warn the settlement of the attack. The alarm was given in time and all escaped. A dripping wet Dicey returned home in time to cook breakfast for her father, never telling him that she had been gone all night long.    
[Note: Some accounts of Dicey's trip to warn her brother say that she went on foot, instead of riding a horse. Possibly she did go, on another occasion, on foot to warn her brother.]
For her information to the Patriots, Bloody Bill Cunningham and his Scouts took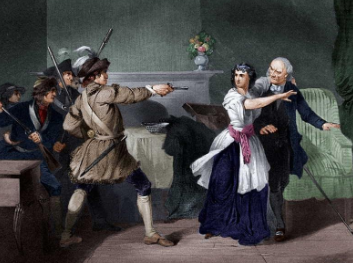 revenge on Dicey's father, Solomon, with whom she lived in Laurens County. They backed the aging man to the wall and aimed to shoot. Dicey lunged in front of a soldier's cocked weapon and informed the assailants, "You will have to shoot me first!"" Her courage was rewarded. Cold-blooded as they were, they could not bring themselves to shoot, and left.
One day, returning from a Whig neighborhood in Spartanburg District, she was met by a company of Loyalists, who ordered her to give them some information they desired respecting those she had  just left. She refused; whereupon the captain of the band held a pistol to her breast, and ordered her instantly to make the disclosures, or she would "die in her tracks." Dicey replied, with the cool intrepidity of a veteran soldier: "Shoot me if you dare! I will not tell you," while at the same time opening a long handkerchief which covered her neck and bosom, as if offering a target for their bullet. Incensed by her defiance, the officer was about to fire, when another threw up his hand, and saved the courageous girl's life.
Another time, her brother James left a rifle with Dicey which she was to keep hidden until he sent for it. He did so, by a company of "Liberty Men," who were to return by his father's home. On arriving at the house, the leader asked Dicey for the gun. She went and got it, but as she came towards the soldiers, she remembered that she had neglected to ask for the countersign agreed upon between her brother and herself. She observed that the soldiers looked suspicious and could be Tories. She demanded the countersign. The leader answered that it was "Too late. We have the gun now, and its holder, too!" "Do you think so?" Dicey asked. Turning the muzzle of the gun to his head and cocking it, she cried, "No, you don't. And you won't unless you give me the sign! If the gun is in your possession, take charge of her!" Her look and attitude of defiance showed her to be in earnest; the countersign was quickly given, and the men, laughing heartily, pronounced her worthy of being the sister of James Langston. As the men left, the leader lingered and looked back at Dicey and smiled. She returned the smile. The leader, Thomas Springfield, would become her husband after the war.
Sometime after 1809, Thomas and Dicey moved to Greenville County, SC, where they bought land from Alexander Ray on the west side of Reedy River and built a log cabin on what is now Tygerville Road, Traveler's Rest, SC. She died at her home May 23, 1837. Dicey's obituary in The Greenville Mountaineer, the then weekly newspaper of that area, reads as follows:
"Mrs. Laodicea Springfield, aged 71, wife of Capt. Thomas Springfield. 
The deceased was the daughter of Solomon Langston of Revolutionary memory, whose family suffered perhaps more from the reckless ruthless ravages of Tories and Indians than almost any other; and the subject of these remarks took an active part in the struggle, and performed many daring feats in behalf of her suffering county and friends. She was the mother of 22 children, and left about 140 grand and great grandchildren. She was a kind and affectionate wife, mother and neighbor, and has left a large circle of acquaintance to deplore her loss."
WILL OF THOMAS SPRINGFIELD
(Reproduced from documents in South Carolina Archives Department, Columbia, SC, Greenville Wills.)
In the name of God Amen, I Thomas Springfield of Greenville District and State of South Carolina, being weak in body but of sound mind and memory, thanks be to God for the same, do make this my last will and testament in manner and form following that is to say, first I recommend my soul to God who gave it and my body to the dust to be decently buried by the direction of my executors who I shall hereafter name and appoint. 
Item I – I give to my son Aron Springfield one hundred dollars to be paid out of my estate by my executors and to my son James Springfield I give ten dollars to be paid by my executors out of my estate. To my son Hugh Springfield I give fifty dollars to be paid by executors out of my estate. To my daughter Patsy Magness I give her one hundred dollars to be paid by my executors out of my estate. To my son, Thomas Springfield I give a negro boy named Adam and a large family Bible. I give to my son Bennet Springfield all the woodland that lyes on the south side of the road that runs from my house to Moons.
I give to my daughter, Sarah Bates, a negro girl named Jin. To my daughter Nancy Miller I give two thirds of the proffit of a negro woman named Liza and at the decease of the Said Nancy Miller, that part of the said Negro to be equally divided between Nancy Miller's four children, Mahala, Dica, Betsy, and Henry Miller, these my grandchildren.
To Langston Springfield's four sons, Franklin, Henry, Thomas, Jasper, I give one third of the Said negro woman named. To my granddaughter, Saphronia(?) Springfield, I give one hundred acres of land, the plantation whereon I now live and house and I also give her one negro boy named Good, also one featherbed and bedstead and furniture. To my daughter Nancy Miller I give one feather bed and bedstead and furniture. To my grandson Pinkney Springfield I give a certain parsel or track of land bounded by my home track and bounded by Lemons land and by Moon's land containing 70 acres more or less. My negro 
George is to be sold and all my loose property and stock of all kinds to be sold and my debts paid out of the proceeds.  And if there is any more money than pays my debts I want it equally divided between my three grandchildren, vis: Dysa Harkins, and Nancy Harkins and Thomas Springfield in witness whereof
I have hereto set my hand and seal this the twenty-eighth day of October, Eighteen Hundred and forty three, 1843. 
Signed in presents of –
H. H. Goodlett
Thomas Chiles
Joseph McJunkins M.C.D.                         Thomas Springfield (L.S.)
Probated the 7th day of April A.D. 1845
Recorded in Will Book C (or G) Page 169-171
Apt. 10 File No.a8.
(Thomas Springfield's will was made in Bute County, NC. Bute County later became Warren and Franklin Counties, NC.)
CHILDREN OF THOMAS AND LAODICEA "Dicey" LANGSTON SPRINGFIELD:
(These are the uncles and aunts of Thomas Walker Springfield with the exception of Samuel Aaron who was his father.)
(All the children were born in Laurens County, SC.)
1.Thomas Springfield (b. 1784). Nothing is known about him. He likely died young.
2.Samuel Aaron Springfield (b. 25 May 1786, d. 15 April 1872 in Monroe County, MS) m. Elizabeth Walker (b. 30 June 1787, d. 20 Feb. 1864) on 28 August 1806.  Aaron is our ancestor.  See section on him for more information.
3.James Langston Springfield (b. 5 February 1788, d. 28 April 1859) m. Nancy Stiles/Styles (b. ca. 1792), daughter of Samuel and Celah Langston Stiles.  (They were first cousins.) James and his family were in Greenville County,  SC in 1850; by 1860, James had died and Nancy and daughter Holly B. were living at Masa Creek, SC, next door to her daughter Frances and son-in-law James M. Hellems, and their infant daughter, Nancy D. Hellems.  They had 10 children.
4.Moses Springfield (b. 14 August or September 1789; d. November 1854 in Butts County, GA) m. Margaret "Peggy" Andrews (b. 13 April 1811) on 19 February 1829 in Butts County, GA.  They had one son.
5.Pickney Springfield (1790)
6.Henry Springfield (b. 23 July 1791, d. 18 February 1836) m. Levinia ______. They had one son.
7.Elizabeth Springfield (b. 19 January 1793, d. after 22 August or September 1840 or 1842) m. James Jarvis Maxwell. They had two daughters
8.Ephraim Springfield (b. 30 March 1794).
9.Sarah "Sally" Springfield (b. 6 February 1796, d. 1 November 1847 or 1848) m. John Bates.
10.Hugh Springfield (b. 19 November 1797, d. 15 February 1849 in Murray/Whitfield County, GA) m. Martha E. Springfield (b. ca. 1800 in Georgia) on 28 February 1818. They had six children.
11.Martha "Patsy" Springfield (b. 6 May 1799, d. 18 December 1856 in Marion County, AR) m. Joseph Magness. She is buried in Milum Cemetery, Leadhill, Boone County, AR.
12.Laodicea "Dicey" Springfield (b. 1 April 1801, d. 15 April 1834) m. Thomas Harkins in 1818.
13.Nancy Springfield (b. 17 September 1802, d. 2 May 1853 in SC) m. James Miller. They had four children.
14.Mahala Springfield (b. 1803; d. 25 July 1873). It is thought that Mahala married LeRoy Newby first, and then Reverend Stephen Powell (after 1858). Mahala and LeRoy had dix children.
15.Thomas B. Springfield (b. 27 September 1804, d. 9 May 1865 in Murray County, GA) m. Amy Stiles, daughter of Samuel and Celah Langston Stiles. (They were first cousins.) After her death,  he married Martha J. ______  (b. ca. 1824, SC) and moved to Georgia. The 1850 census finds him in Gilmer County, GA, with occupation listed as school teacher. On the 1860 census he is listed as a farmer in Rock Creek, Murray County, GA. They had 10 children.
16.Bennett Springfield (b. 2 or 20 March 1806, d. 7 April 1877 in Murray County, GA) m. Martha (or Mary) Ann Wilbanks (b. ca. 1814, SC; probably died ca. 1855, Murray County, GA) /m. Emily Jones (b. ca. 1835, GA). Bennett was a farmer. All the children were born in Georgia, most  likely Murray County. The 1860 Georgia Census lists their location as Spring Place, GA. Bennett was a Justice of the Peace in Spring Place, Murray County, GA. He had 14 children.
17.Solomon Langston Springfield (b. 15 or 19 August 1807, d. 23 March 1842). One source says he died in Murray County, GA; another says he died in St. Clair County, AL. He married Catherine Bradley (b. 11 May 1828 in South Carolina). They had four sons.
18.Willis Springfield (b. 27 May 1809).
19.Mary Jane Springfield (1816)