Thomas Ferrell Cunningham was my dad.  He was first and foremost a builder. Dad's tools were simply an extension of him.  Even in dress clothes, he always carried a tape measure in his pocket. He said he had to have it for balance because if he forgot it he would walk crooked. 
At the beginning of every building project after the very first shovel of dirt or other first step had been taken, he would always say "Now all we lack is finishing."  The echo of his voice saying those words rings in my head now as I attempt to capture some of my memories of him.
One of my very first memories of life, not just of Dad, is playing with his wooden extension ruler that folded out and in like an accordian. (This was before the pull-out tape measure that he later favored so much.)  I was simply fascinated with that wooden ruler.  I still have one at home that I unfold and fold occasionally just for the fun of it.  I remember him letting me "help" measure – what a thrill for me. I know now that a toddler is not at all "helpful" on any building project, but Dad's absolute love for and patience with children was one of his truly remarkable characteristics – one that I believe brought him as much joy as it did those of us who were blessed by it. 
Dad's patience extended to his own mistakes.  When boards didn't exactly fit as they were supposed to or some other slight mishap happened on a project,  he would study the situation carefully, cock his head a little and then say "A blind man on a galloping camel would never see that"  or he might say "I think I can fix that with some half inch caulk".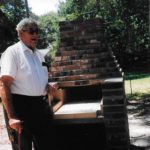 Another noteworthy aspect of Dad's building was the longevity of it.    He loved to work with concrete and mortar more than any other form of building.   His favorite was laying concrete blocks, but he could also lay bricks.  When he was 93 years old, he agreed to lay the bricks on a column on my carport.  My son Dan (Legacy Keeper Dan Foster) planned to help Dad and me, but the only time we could coordinate the project was a very short time after one of Dad's cancer treatments.  I will never forget the look on his doctor's face when I asked him how soon it would be safe for Dad to lay bricks after the treatment.  The doctor asked "How old did you say you are, Mr. Cunningham?" in total disbelief.  Dad bricked the lower part of the column (the hardest) and then let  Dan and me "help" him do the rest so we could learn how to lay bricks.  Dad proudly kept a picture of this last building project on his phone the remaining two years of his life.  Another of my treasured memories is the barbecue grill he built for me when he was in his eighties that is pictured at the left.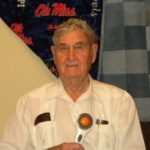 Dad also spent the last years of his life helping make quilts.  Along with his brother Glenn, Dad cut the pieces for a quilt for each of his 14 grandchildren.  All the quilts had remnants of clothes that had belonged to Mary, his wife of 42 years who died in 2015.  Dad's carpentry skills served him well as he quickly learned the very exacting process of measuring and cutting quilt pieces accurately.  My fondest memory of this whole process was the look of intense concentration on his face as he carefully cut each piece with his tongue sticking out between his lips as if getting each piece just right was the most important thing in the world.
Looking back on this precious memory, I believe that in his final years "getting it just right for his grandchildren" actually was the most important thing in the world to Dad.  I feel very blessed to have the quilt project as one of my final memories of him.