In 1997 the following letter and newspaper article were forwarded to Legacy Keeper Sandra Scott.  Birdie's letter was in response to a request for information to be put together for the 50th wedding anniversary of Billy and Bertie Cunningham that Sandra was working on.  Based on the statement in the article reading "Mr. Bomar died Jan. 31 of this year" and the information in the letter that Dick died 1-31-91 we know that the date of the article is sometime in 1991 but the name of the newspaper is not known.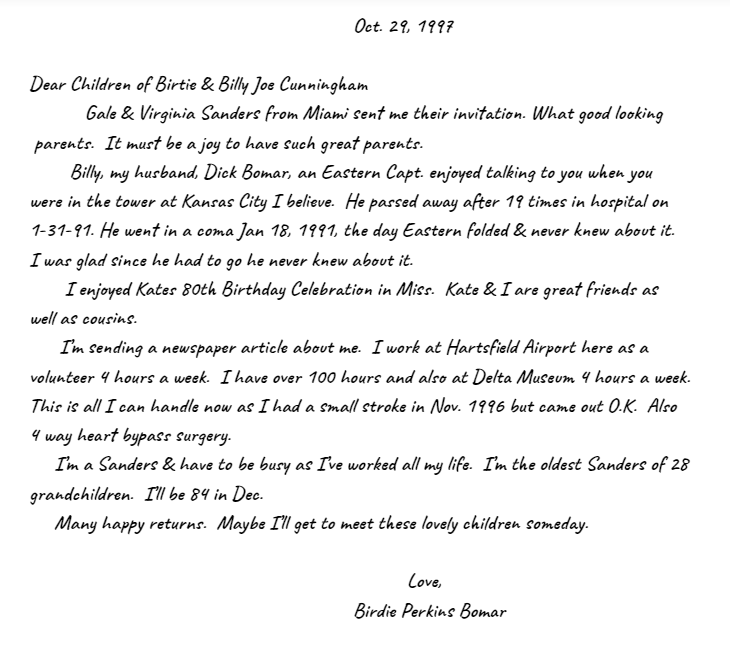 1991 Newspaper Article: 
Delta's First 'In-Air' Stewardess – Birdie Bomar – Recalls Early Days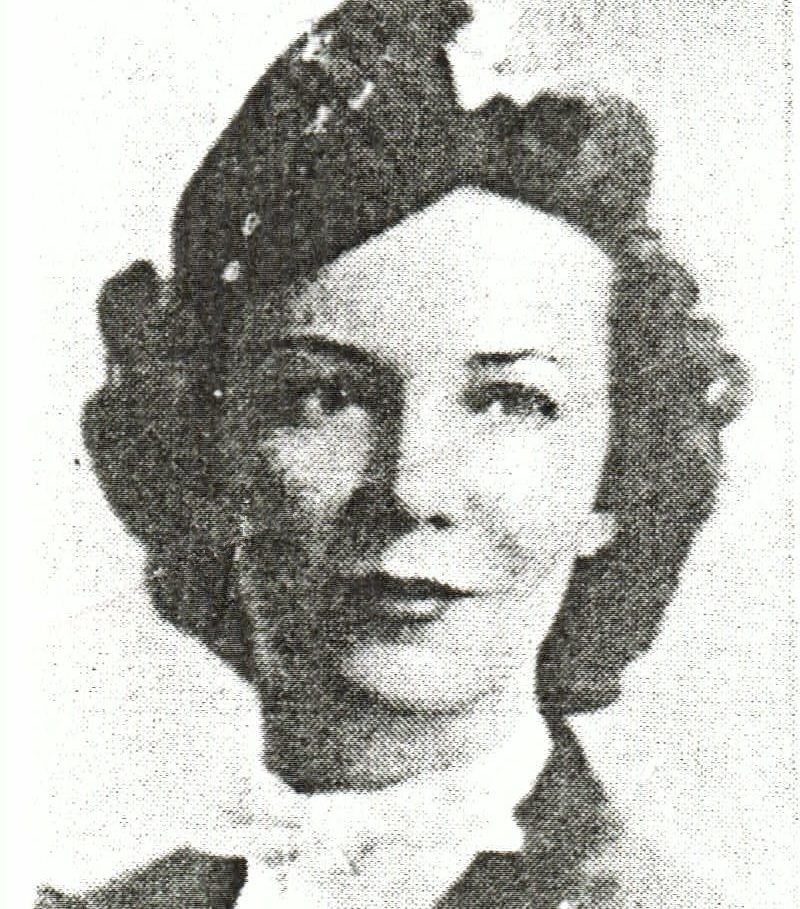 On March 15, 1940, a young woman named Birdie Perkins from Vernon, Ala., earned the distinction of becoming Delta Air Lines' first "in air" stewardess.
Today, Birdie Perkins Bomar, a resident of the Nisky Lake area of Southwest Atlanta, is an active sales associate with Northside Realty – and she is still a trim size 12 which means she can wear her first uniform.
Still a green-eyed redhead, Mrs. Bomar's life has taken many turns, but underlying it all is her love of flying and her fond memories of being a "first" with Delta.
"At the time (1940), I could have cared less," she said, but she was told that "down the road it would mean something."  Ironically, a slight mechanical failure in a sister ship put Mrs. Bomar in the air before her counterpart in Texas, Lajuan Gilmore.  Laura Wizark Baker, Delta's first chief stewardess who died in the late 1980's, hired nine stewardesses in 1940.  Mrs. Bomar was assistant night supervisor of nurses in a Birmingham hospital when she saw the advertisement for an exciting new job as an Airline Stewardess.
Many airlines in this new and booming industry were seeking applicants and Mrs. Bomar was accepted by American, United, and Delta – but she chose Delta.
She was employed on Feb. 26, 1940, and the first flight was March 15.  Two 14-passenger planes were leaving simultaneously from Atlanta to Ft. Worth and from Ft. Worth to Atlanta.  The Ft. Worth plane was delayed by only a few minutes which put Mrs. Bomar in the air first.
"I was perspiring like mad and scared to death," she recalls.  Her "fear" was not necessarily from flying.  On board were her direct supervisor, Laura Wizark, and also C.E. Woolman, Delta's founder and president until his death in 1966.
Mr. Woolman remained on board, but to make things easier for Mrs. Bomar, Laura Wizark got off the plane in Shreveport.
From then on it was smooth sailing for Mrs. Bomar for the next 2-3 years.  She continued flying at least 50 hours a month even after she was made chief stewardess for Delta.
In 1940, she met a young pilot, Richard Bomar, in the old Hangar Hotel Coffee Shop in Atlanta.  On July 25, 1942, they were married.  Mr. Bomar died Jan. 31 of this year.  Mr. Bomar had joined Eastern in 1938 and, after World War II, he went back to flying until his retirement in 1973 as a captain.
In 1963, Mrs. Bomar again flew with Delta as honorary stewardess on the last flight of Ship 42 from Knoxville to Atlanta.  For about five years in the 1970's, Mrs. Bomar again returned to Delta where she toured children through the Atlanta airport.
From 1950-1982 she worked as a private duty nurse at Piedmont Hospital.  In 1966, she obtained her real estate license and for 10 years worked parttime becoming a fulltime agent in 1976 for Harry Norman Realty and later Northside Realty.
Mrs. Bomar said that flying remained her first love. "I liked it rough.  I never got airsick and I would look for a storm to make the ride more exciting."
This gutsy lady "loved" St. Elmo's fire – "especially when the static electricity would roll down the airplane aisles."
During her years in the air, Mrs. Bomar said "nothing very dramatic ever happened."
Her initial salary was $110 per month – and uniforms at that time cost $110.  They wore navy blue uniforms from Rich's in the winter and beige ones from Neiman-Marcus the rest of the year.