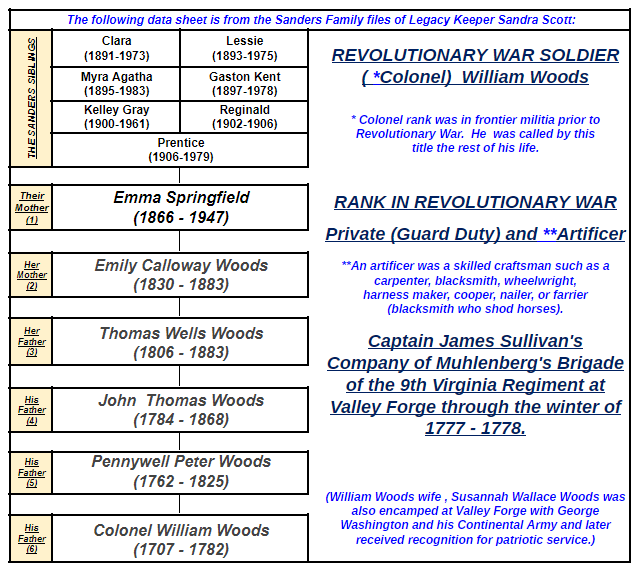 The following information is from the Woods Family files of Legacy Keeper Sandra Scott:
William Woods was born November 2, 1715 in Castle Dunshauglin, Meath, Ireland and died April 12, 1782 in Greenbriar County, Virginia.  He married Susannah Wallace.  She was born in 1719 in Northern Ireland and died in 1797 in Greenbriar County, Virginia.  William and Susannah were the parents of twelve children, seven boys and five girls.  William and Susannah migrated to frontier Virginia in 1734 from Pennsylvania where they had been living since they had come to America in 1724.  Family members were devout Presbyterians and had fled religious persecution in Ireland only to find themselves once again uncomfortable in the Quaker settlements of Pennsylvania.  
William's father, Michael Woods, led a band of his family members including his wife Lady Mary Campbell Woods, his three Woods sons, his three Wallace sons-in-laws (Peter, William, Andrew) and all their family members south through the Valley of Virginia (Shenandoah Valley) and then east through a gap in the Blue Ridge Mountains that became known as Woods Gap to settle in what became Albemarle County, Virginia.  Today it is called Jarman's Gap after a later owner of the area and is near the southern end of the Shenandoah National Park.
William and Susannah were part of this party and settled with their other family members in an area that was on the old Indian trail they had followed from Pennsylvania.  There were no large Indian settlements in the immediate area but the trail the Woods family settled on was used as the "war path" of Indians from both north and south of the area when they were making war on each other.  Throughout his lifetime our ancestor William Woods was engaged in the defense of this area against many Indian attacks.  He rose to the rank of Colonel in the local militia and was called Colonel Woods the rest of his life.  He was also sometimes called "Father Woods". 
When the Revolutionary War began in 1776, William was 61 years old but he still served the American cause and after the War is included in the Virginia Revolutionary Public Claims under the category of "Patriotic Service" for having "rendered material aid".   Susannah is also included in the Virginia Revolutionary Public claims under "Patriotic Service" for having "furnished food for the Army".  This would have been for service to the Virginia militia.
William Woods also processed a Revolutionary War Pension Request listing his status as a Private in the Virginia line which was in the Continental Army.  He is listed on the muster roll during the Valley Forge winter of 1777-1778 in Muhlenberg's Brigade, Captain James Sullivan's Company of the 9
th
Virginia Regiment.  He is listed on guard duty in February, 1777 and he is listed as an "artificer" in April, 1778.  An "artificer" was a skilled soldier such as a carpenter, blacksmith, wheelwright, harness maker, cooper, nailer and farrier (blacksmith who shod horses).  William shared the harsh winter conditions and deprivations of the Continental Army in spite of his advanced age.
In addition to their own services, five of William and Susannah's seven sons were commissioned officers in the American forces.   Our ancestor, Peter, was a young boy of fourteen at the time and helped his parents in their support of the American forces.  Our Woods ancestors were certainly patriots we can be proud to claim.