From Edna Sanders.
Dick was born in 1913 in Bell Buckle, TN. By his persistence and qualifications, he became rated as a military pilot through his commercial flight experience and satisfying the academic requirements by working correspondence courses.
After two years with Eastern Airlines, he was called to active duty in May 1942, with a Troop Carrier Division.
Dick became Operations Officer of the 32nd Squadron upon arrival in North Africa, and early on got into action. On a mission (to Sicily), over the drop zone, just after they had dropped their load, a shell burst through the cockpit. After a moment of smoke and dust settling, someone asked Dick if he were hurt. Dick held up his arm, with the hand dangling loosely alongside, and said "Yes, 13 years of flying and a career shot to hell".
As a Registered Nurse and supportive wife, Birdie B. performed a miracle with Dick's recovery by making him crochet with his wounded hand. After two years of crocheting therapy, his wrist function was restored, permitting him to return to full flying status with Eastern Airlines after the war.
Dick died in 1991, and is buried in the Sanders cemetery near Vernon, AL.
From Frances Wojtusik.  The publishing newspaper is not known.  Dick's military experience has been highlighted.
Grave Services Held Sunday
For William Richard Bomar
At Sanders Cemetery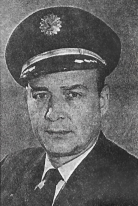 Captain William Richard Bomar, of Atlanta, Georgia, age 78, a retired pilot with Eastern Air Lines and a pioneer in the field of aviation, died Thursday January 31, 1991, a victim of cancer, Captain Bomar was the husband of Birdie Perkins of Vernon, Alabama.
Funeral services were held Saturday, February 2nd at 11:30 o'clock at Spring Hill in Atlanta and a graveside service at Sanders Cemetery, Vernon, Alabama, Sunday, February 3rd with the Rev. Dr. Jim H. Savage officiating. Burial followed with Chandler Funeral Home of Vernon directing.
Captain Bomar's career as a pilot goes way back to the 1920's when aviation was in its infantry. His mother enrolled him in the Webb School at Bell Buckle, Tennessee in preparation for a medical career, however, Dick's interest was in the field of Aviation.  He had his first flight as a passenger in an airplane at age 7.  While attending Tennessee State Teachers College, he worked at the Sky Harbor Airport at Murfreesboro which, at the time, served the metropolis of Nashville.  Lt. R.O. Lindsey, a World War I ace, instructed him and he was awarded pilot's license number 26899.  In 1932, he bought 1/2 interest in his first airplane for $300, which was a sizable sum in those days.  He was immediately faced with the task of protecting his investment as a catastrophe took place on the first flight.  A bolt holding the strut to the left landing gear worked loose and fell out.  The wheel dangled from the aircraft causing them to face the possibility of a crash landing.  Dick climbed out on the wing, wrapped his legs around the guide wires and secured the landing gear with his belt.  He then removed a piece of cowling wire and wrapped it around the gear strut, enabling Lt. Lindsey to make a safe landing.  After installing a new bolt, the two went back up to complete the check-out flight.  While at Sky Harbor Airport, Dick Bomar met such famous people as Leland Jamieson who flew the air mail and racing pilot, Jimmy Doolittle who many years later led the aircraft carrier based, B-25 bomber raid on Japan in World War II.  Doolittle was representing Shell Oil at the time  so Dick was commissioned to handle their aircraft fueling facilities.  He obtained a job with Interstate Airlines and worked for them for two years.  American Airways took over Interstate Airlines in 1933 and shortly after, the air mail contracts were canceled as the Army Air Corps took on the flying of the mail.  When the contracts were re-opened for bids,  American Airways had to change its name to be eligible and became American Air Lines.  Dick remained at Sky Harbor Airport to handle the fueling facilities as American transferred its main operation to Ft. Worth, Texas.  He served Eastern Air Lines which began flying through Sky Harbor Airport in 1935.
When refueling facilities there were closed, Dick Bomar came to Atlanta and was hired by Eastern's Captain Larry Pabst who had flown for the United States Marines in 1927 when the United States had intervened in Nicaragua during the take-over by the revolutionary Sandino.  Dick Bomar was hired and sent to Spartenburg, South Carolina to serve as an Eastern Air Lines passenger agent.  In his spare time, he flew for Palmetto Air Service to earn enough money to obtain his flight instrument rating.
He enlisted in the Army Air Corps Reserve and returned to Atlanta as an Eastern Air Lines pilot in 1940.  At the outbreak of World War II, there was a severe shortage of people with flying experience.  Dick Bomar was one of the very few who were qualified and he was called to active duty in 1942 and sent to Dayton, Ohio to form a Troop Carrier Command.  His mission was to train those new pilots who had less than 200 flying hours of experience, to fly the Douglas C-47, to pull gliders and to drop parachute troops in the 82nd Airborne Division. The thoroughness with which he carried out his duties and his attention to detail was later to save both the lives of his crew and himself.  The training continued as they proceeded overseas to North Africa where he served as Flight Operations Officer in the 62nd Troop Carrier Squadron and then was promoted to Squadron Commander of the 32nd Troop Carrier Squadron.
On their second mission, July 11, 1943, Dick Bomar and his flight crew took off for Sicily.  The success of the huge engagement that had been planned was dependent upon the success of his flight in pin-pointing a drop zone at which the paratroopers could complete their mission by lighting a fire to be used as a signal and reference point for the batteries of our war ships out in the Mediterranean.  This engagement marked the beginning of the invasion of Italy.  For this reason, Dick Bomar performed the duties of navigator.  The paratroopers were dropped, the fire lit and the heavy shelling began.  On the way out, Dick Bomar's plane was hit by a hail of bullets and a shell exploded in the cockpit blowing a hole in the ceiling and almost taking Dick Bomar's arm off.  Some of their control cables were severed and it appeared they would crash in the sea.  Dick Bomar's well trained crew administered the necessary first aid and steered the crippled plane safely back across the Mediterranian using power from the engines in place of the lost controls.  He was awarded the Purple Heart, Air Medal, European-African-Middle Eastern Theatre Ribbon with two Stars and the American Theater Ribbon.
His long recovery began in a field hospital in North Africa and ended many months later in Memphis where his injured arm was reconstructed.  It was here that he met Captain Eddie Rickenbacker, the Congressional Medal of Honor recipient and President of Eastern Air Lines, who raised his spirits by assuring him that there was a place at Eastern for him.  To the great credit of the Medical Corps, his injured arm was saved and he returned to flying as a Captain with Eastern.
The glamorous life of an aviator brought together Dick and Birdie Perkins of Vernon, Alabama, who was the number one Stewardness on Delta Air Lines.  The two were married after an exciting courtship.  Dick was brought into the management of Eastern Air Lines as Chief Pilot of Atlanta and the Company enjoyed a stable and successful era for many years.
The events that took place over Sicily had a deep and profound effect on Dick Bomar and gave him a spiritual experience which enabled him to help his fellow aviators lead better lives.
Captain Bomar was a Charter Member of the Lakeside Country Club in Atlanta, a Life Member of the Cascade-East Point Lodge Number 1617 B.P.O. Elks, a member of the Ft. McPherson Officers Club and a member of the OX-5 Club.
He is survived by his widow, Birdie Perkins Bomar of Vernon, 4 nephews, 1 niece and 4 cousins.