Uncle Kent 's Connection to the A-Bomb
Uncle Kent was 45 years old, and too old to join the Military when WWll broke out in 1942.  Nevertheless, he contributed to the war effort by answering the urgent call for construction workers, general laborers, etc. at the Clinton Engineer Work in Oak Ridge, TN.  Although no one knew it at the time, this was where the uranium used in atom bombs was manufactured.  The uranium in "Little Boy," the bomb dropped on Hiroshima, Japan, came from Oak Ridge.
In all honesty, Uncle Kent's main motive for leaving home and working at Oak Ridge was probably not only patriotic, but financial as well. In the post-Depression days, cash money was hard to come by, especially for those trying to make a living and support a large family on a small rocky, red-dirt farm in the hills of northwest Alabama.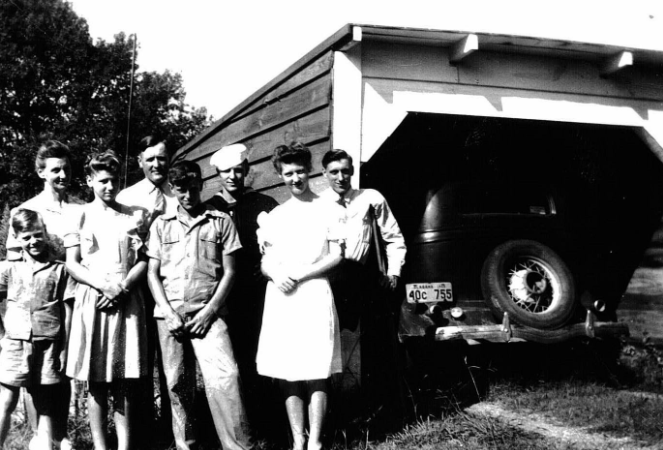 So, he and probably a few others from the area, went to Oak Ridge to work, and there was plenty of it available to them. Uncle Kent worked there as a painter and a sand blaster.  At its peak, the population of Oak Ridge had reached 75,000, and 30 to 40 houses a DAY were being completed and turned over to the plant employees and all the workers. And in addition to the houses, the many buildings on the plant grounds often required sand blasting or paint.
His children remember that he came home as often as he could. He usually traveled back and forth riding with co-workers from the area who had a car, one of whom was a neighbor, Gray Gilmer.  And possibly he sometimes traveled by train, which he could catch in Sulligent, only about 8 miles away. His son Thomas remembers once when he came home for 2-3 weeks to recuperate, because he had fallen at work and hurt himself.
No doubt having to be away from home so much was a hardship for him and his family, even though he was bringing home more money than ever before. He had to hire a man to stay on the farm and work it while he was gone. He worked at Oak Ridge approximately 3 years. After the war ended, he came home to stay, having contributed what he could to America's great war effort. And it wasn't until years later that he finally learned what was being made at Oak Ridge.
Oak Ridge, Tennessee
The Town That Built "Little Boy"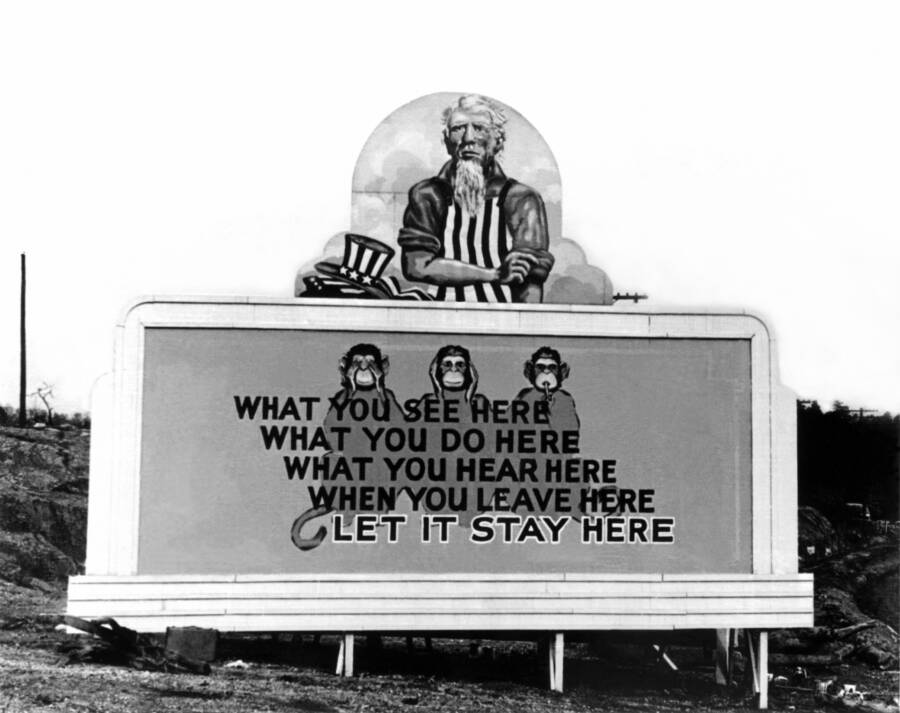 The town of Oak Ridge, Tennessee was built in 1942, in midst of a race to beat Germany to be the first to create a nuclear weapon. Oak Ridge was the home of the uranium enrichment plants (K-25 and Y-12), the liquid thermal diffusion plant (S-50) and the pilot plutonium production reactor (X-10 Graphite Reactor). The uranium in "Little Boy," the bomb dropped on Hiroshima, Japan, came from Oak Ridge.
 A few years earlier, the Army Corps of Engineers had acquired 59,000 acres between Black Oak Ridge and the Clinch River, all of which were to be used for a top-secret facility.  Located near Knoxville, Oak Ridge was chosen for its abundant land, low population, and easy access to other research locations in D.C., New York, and Chicago.  It also had access to water from the rivers and electricity from dams recently created by the Tennessee Valley Authority.
By the time President Roosevelt authorized the Manhattan Project (to build an atomic bomb) on December 28, 1942, work on the site was already underway. The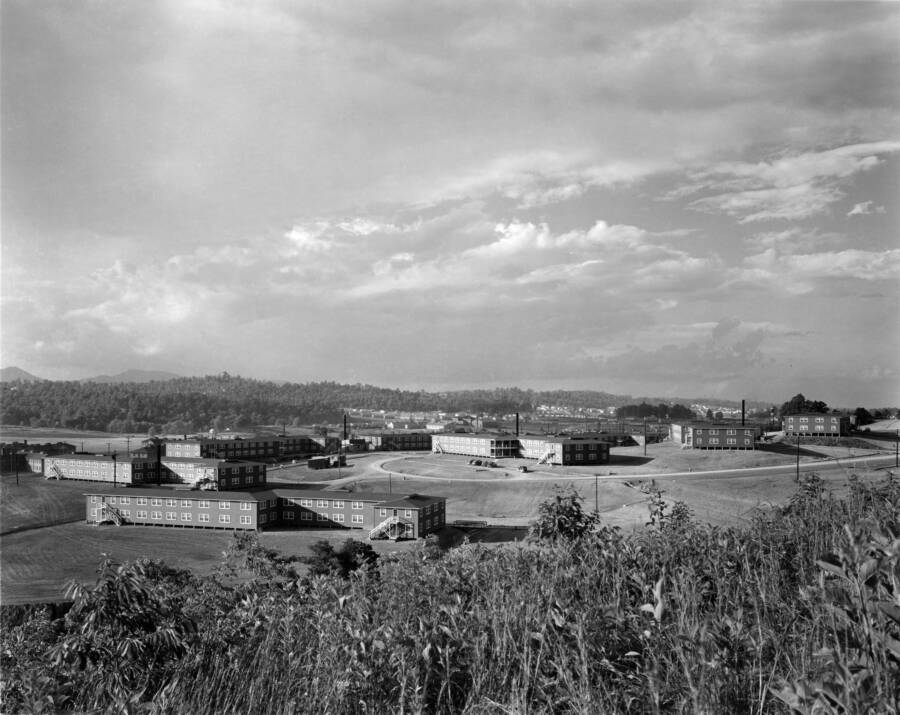 relatively few families on the marginal farmland (some were Native Americans) were evicted with short notice. Tobacco and sorghum plants were left in the ground, waiting for a harvest that would never come.
Town planners were originally to provide housing for an estimated 30,000 people, but by 1945, the population had reached 75,000. At the height of the Manhattan Project, workers turned out 30 to 40 houses a day. Materials were in short supply, so the first houses were built of prefabricated panels of cement and asbestos called cemesto board. Later, thousands of prefabricated houses were sent to Oak Ridge in sections complete with walls, floors, room partitions, plumbing and wiring.
The population of the town was almost exclusively made up of government workers and construction personnel. Seemingly overnight, Oak Ridge became the fifth-largest city in Tennessee. Some residents were high-level scientists, while others were recent high school graduates, or people who had come from the South and beyond to find work, as there was a tremendous need for construction workers, plumbers, painters, electricians, etc.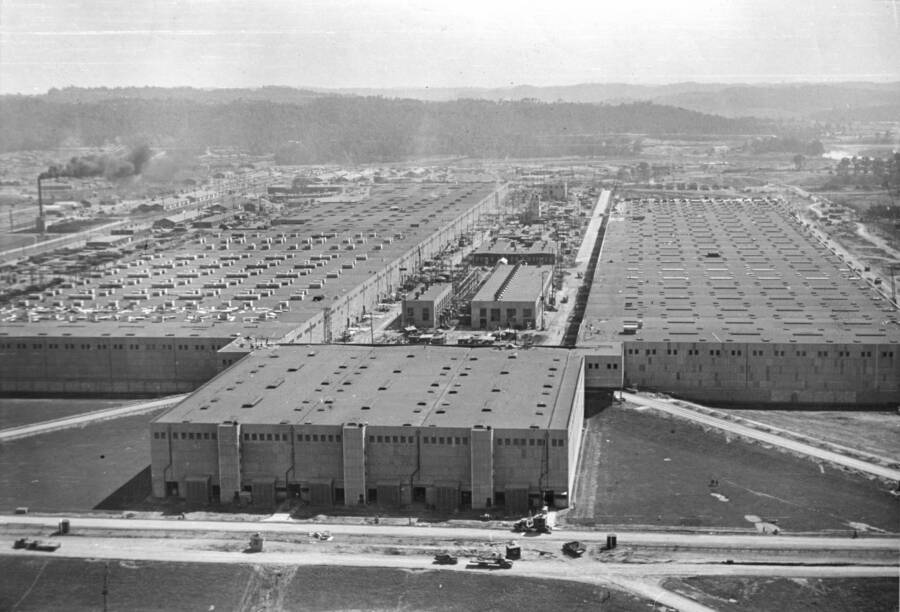 Nicknamed the "Secret City," most of the people worked in Oak Ridge without knowing entirely what they were working on. Signs warned about the importance of remaining quiet about the work they were doing. The "Loose talk helps our enemy" message was similar to the "Loose lips sink ships" propaganda posters from the time.  Even family members couldn't discuss their work. In fact, most of the employees at the Clinton Engineer Work, as it was known to the public, had no idea what their role was in the war effort until much later. Signs all over town warned its denizens, "What you see here…when you leave here, let it stay here."