Aunt Clara Helped Win the War
During World War II, Clara Sanders Perkins worked at "The Bullet Factory" (Gulf Ordinance Plant) in Prairie, Mississippi. (See article below about the plant.) She was 50 years old, a widow with three grown children – youngest was 20, when war broke out in 1942. We don't know exactly how soon after that she started work, but know she worked there until the end of the war when the plant closed.
Jack Sanders remembers that Aunt Clara had a 1934 Ford car, four-door, with the back doors opening toward the front. She called it "Old Crip."  She worked every weekday, and possibly some on Saturdays.  She drove Old Crip, almost a 40-mile trip, with passengers who paid her for the ride. She also got extra tire and gas ration stamps for carrying riders.  Her route to Prairie from her home in Vernon, Alabama was through Caledonia, Hamilton, and Aberdeen, Mississippi where she often picked up riders. What with the riders from the Vernon area, the car was probably somewhat crowded at times.  It should also be noted that after she crossed the Mississippi state line, a good long stretch of the road was not paved at that time, just rough dirt road.
Aunt Clara was always proud of her work during the war, and we are proud of her, too. It couldn't have been easy for her. Considering all the stops she made, and traveling part of the way on dirt roads, it probably took an hour and a half to two hours to make it to the plant. But she did it, every day, in all kinds of weather, probably having to leave home before sunrise, and getting home after dark.  Her dedication, and those of the thousands of others who did similar jobs, helped the Armed Forces of the United States win the war.
The Gulf Ordinance Plant, Prairie, Mississippi, 1942-1945
One of the largest ammunition plants in the United States during World War II was located at the little town of Prairie, Mississippi, which is near Aberdeen in Monroe County. It was a military munitions plant where shells used during World War II were loaded and packed. The plant, which was in operation from 1942 until the end of the war in 1945, produced 20, 40, 57, and 67 millimeter shells, rocket launchers, 100 pound bombs and Naval tracer ammunition.  It has been estimated that the Gulf Ordinance Plant supplied nearly a quarter of the munitions used by the Armed Forces during World War II.
The plant employed as many as 10,000 workers at its peak, most of whom were women. A special bus line, known as the "Mississipian," was available to transport workers to and from the plant in a 100-mile radius. Dormitories were available for those wishing to stay for extended lengths of time.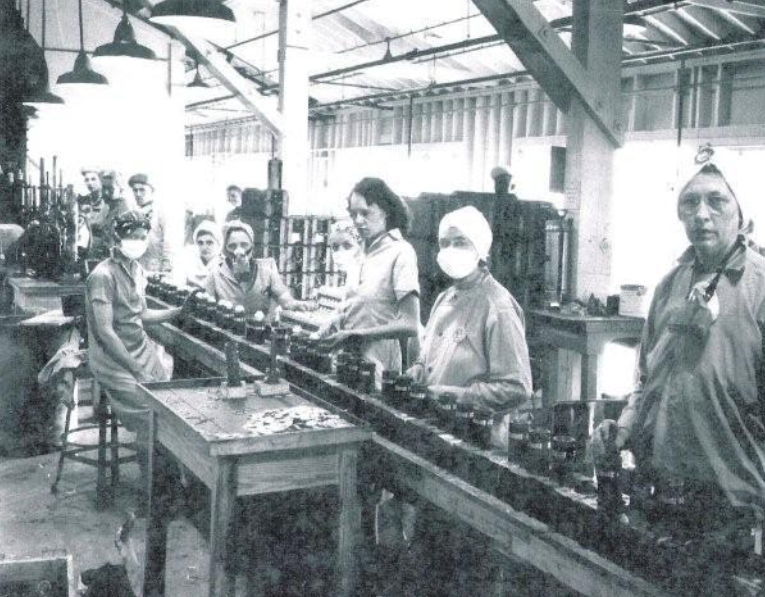 During the plant's existence, it was the second largest industry in Mississippi. Many credit the Gulf Ordinance Plant for the recovery of the surrounding area from the economic hardships of the Depression.  In nearby Aberdeen, business was so good that local cafes were open 24 hours a day and theaters packed for every showing.
Managed by the Proctor and Gamble company, which had already built a munitions plant in Milan, Tennessee, the plant site encompassed approximately 6,720 acres of land, and consisted of administrative buildings, railroads, assembly and storage buildings, dormitories, guard houses, a cafeteria, and a paved roadway system.  551 acres were classified as explosive areas. It was a city unto itself with a coal fired power plant burning 50 tons of coal every day. It also had its own water pumping station.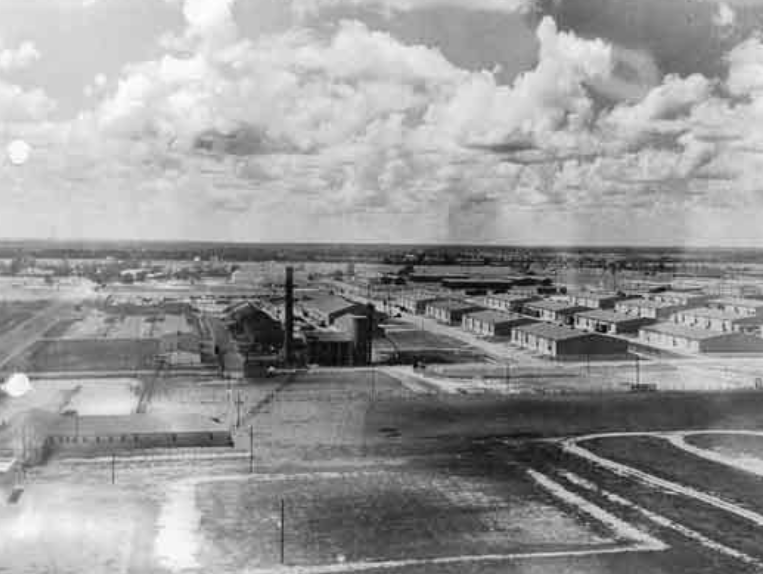 Before construction could begin, several sections of land were condemned and approximately sixty families were relocated and many of their homes and farm buildings moved.
Photo sources:
(1) and (2) Gulf Ordinance Plant: http://www.deltaarchaeology.us/gulf_ordinance.htm
(3) Assembly line: http://brentcoleman.tripod.com/index-gulfordinance.html 
(4) Margaret English: In author's collection