(Lamar County, Alabama - near Vernon)
(The following is from the Sanders Family files of Legacy Keeper Donna Thompson:)
The Sanders Cemetery (on what is now Beaver Creek Road, approximately 1.5 miles north of Vernon) was established by George Harrison Sanders sometime around 1887. George's son, Garland, was buried there in 1887 and has the earliest-dated gravestone. The land belonged to George, who had received a government grant for it in 1885. He later sold it to his son, James Marshall Sanders. [We know James and Emma bought the "old house" place around the time of their marriage in 1888, but don't know whether the cemetery site and property across the road was included with this purchase or not. James did own it by 1910, when he built a new house there and moved his family.] After James and Emma's deaths, the "new" house place and cemetery property was included in property deeded to Kelley Sanders. After Kelley's death in 1961, Prentice Sanders bought the property from the estate of Kelley Sanders. It now belongs to Donna S. Thompson, daughter of Prentice.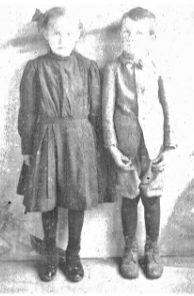 Although almost all those buried in the Sanders Cemetery are direct descendants of George Harrison Sanders, there are three graves, a Miss Perkins, Fannie Harper, and an Infant Williams whom we believe to have come from the Lamar Poorhouse.
As was the case in many country cemeteries, little "paling fences" and sometimes a roof were once built around the graves, perhaps to keep animals or free-ranging stock off the graves, or perhaps just for looks (see picture, below). Flora Lee Adams Newton, granddaughter of George, remembered that when she and Prentice were young (see picture at left), "Uncle Jimmy" (James) would pay them a nickel each to climb over the fences and clean the leaves and debris off the graves. He would then have them spread crushed white seashells over the graves. Many years later, Donna Sanders Thompson, daughter of Prentice, remembers finding some of the small white seashells in the cemetery. Donna also remembers spending many happy childhood hours up in the big,old catalpa tree that once stood at the north edge of the cemetery, in front of where the old Tabernacle had been.
The cemetery is attractive and well-cared for today, thanks to the efforts of  Prentice, and then Edna Sanders, and now their daughter Donna and grandson Steve Thompson. There are  two large oak trees in it, and lots of dogwoods in and around it. Birdie Perkins Bomar provided some azaleas and a  camellia. In 1993, zoysia grass was sprigged over the cemetery and has covered it well. Crepe myrtles and other trees have been set out. Two large, and one small, concrete benches were installed.
After Prentice died, Edna solicited donations from family members and established a cemetery fund, which is used to help pay for cleaning and maintenance.  In 2013, Donna also solicited donations for a permanent stone cemetery sign, to replace a wooden sign that had been stolen several years before.
The GPS address of the Prentice Sanders home is 1450 Beaver Creek Road,  Vernon, AL.  The cemetery is located just past and across the road from the house.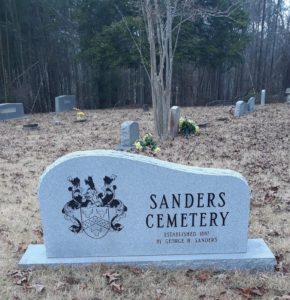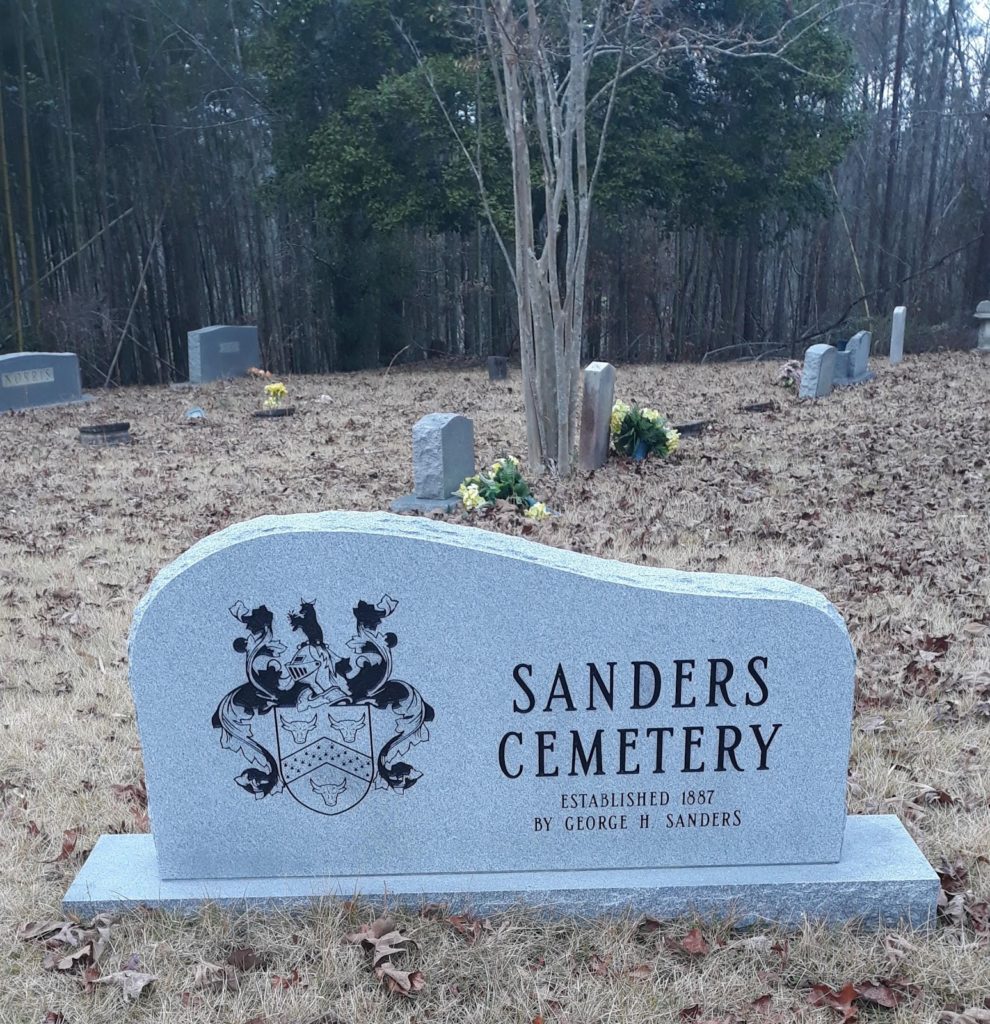 EARLY PHOTOGRAPH OF THE SANDERS CEMETERY
(Lamar County, Alabama – near Vernon)
The photo below was most likely taken at the burial of three-month old infant O. H. Morton, son of Billy and Annie Belle Sanders Morton, who died 19 November 1906. The five graves shown were the only ones in the cemetery at the time. The three on the left were graves of children of Billy and Annie Belle Morton: [B-4] L. L. (b. 9 November 1890; d. 12 November 1890), [B-5] L. O. (b. 5 November 1891; d. 27 December 1891), and [B-6] O. H. (b. 15 September 1906; d. 19 November 1906).
The grave in the center of the picture [C-4] is that of Garland B. Sanders (b. 12 March 1884; d. 6 August 1887), son of George Harrison Sanders, and brother of James Marshall Sanders. We believe he was the first person buried in the Sanders Cemetery.
The grave on the right [D-4] is that of Reginald Sanders (b. 6 November 1902; d. 31 August 1906), invalid son of James M. and Emma Sanders.
NOTE: In the background of the picture, behind the grave on the right, is approximately where the Sanders Tabernacle was later built.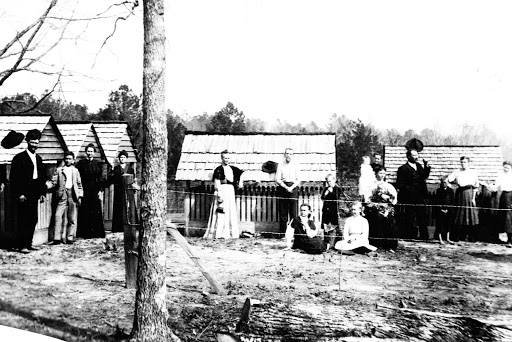 L-R: William "Billy" Morton; Bedford Morton; Annie Belle (Sanders) Morton; Lona Morton; Selina E. (James) Sanders; George H. Sanders; Ora Morton-seated; Kelley Sanders; Myra Sanders-seated; Emma (Springfield) Sanders-standing, holding baby Prentice Sanders; Lulie (Sanders) Adams-seated, holding baby Flora Lee Adams; John Adams (?); Kent Sanders; Lessie Sanders; Clara Sanders partially cut off.)  (James M. Sanders was probably the one behind the camera.)
(Fayette County, Alabama near Kennedy)
The Old Sanders Cemetery in southwest Fayette County was established by our earliest known ancestor, James J. Sanders, after he moved to the area sometime between 1837 and 1839 and settled approximately 640 acres of government land.
The old cemetery is located in a cattle pasture on land that once belonged to the  late Cleo "Bo" Howard, a great-great grandson of James J. Sanders. In 1993, Hansel Sanders, of Coldwater, MS, a great grandson of James J. Sanders, and one of his sons, came and did some much needed clearing and cleaning of the old cemetery, and repaired the broken tombstone of James J. Sanders.
The GPS address of the house near the cemetery is 537 Howard Drive, Kennedy, AL.