From the Sanders Family files of Legacy Keeper Donna Thompson.
Kelley Sanders was a unique individual, adored by his nieces and nephews and loved and respected by his brothers and sisters. He died of cancer (Hodgkin's disease) and is buried in the Sanders Cemetery a few yards from his home.
Kelley never married. As a young man, he went out to the Midwest and wandered around a while, following the wheat harvests before coming back home to Vernon. He lived with his parents and farmed the place. Kelley was a well-read, multi-talented man who also did a number of other things – he was licensed to embalm, he did tax returns, he helped the sheriff raid stills, he was a substitute mail carrier, and he was a school "bus" driver for a few years. He achieved a high rank in the Masons; he was also a charter member of the Vernon Kiwanis Club, and served as (the first) Administrator of the Lamar County Hospital at Vernon for a time. After his mother died, he lived on alone in the big house. Or, more precisely, he lived in the back bedroom, which was piled and cluttered with his books, papers, etc.  Every Monday morning, his sister, Clara, would drive up from town to do a little house cleaning and straightening up for him, change the bed linens and gather up his dirty clothes to launder. He didn't cook, but rather ate in town or with one of his brothers or sisters and their family. When the old house was torn down, he moved a few yards over into a small house nearer the family cemetery, and lived there until his death. In his later years, he joined the First Baptist Church in Vernon.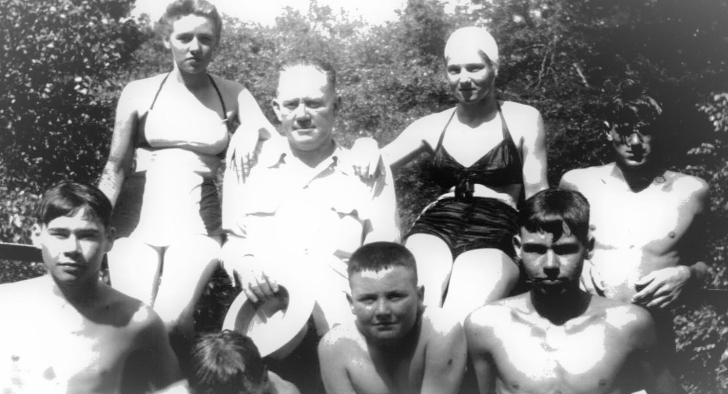 L-R Front: Ross Finch, Thomas Sanders, Jack Sanders, Bob Sanders. L-R Back: Willadine McCarver, Kelley Sanders, Virginia Sanders, James O. Sanders